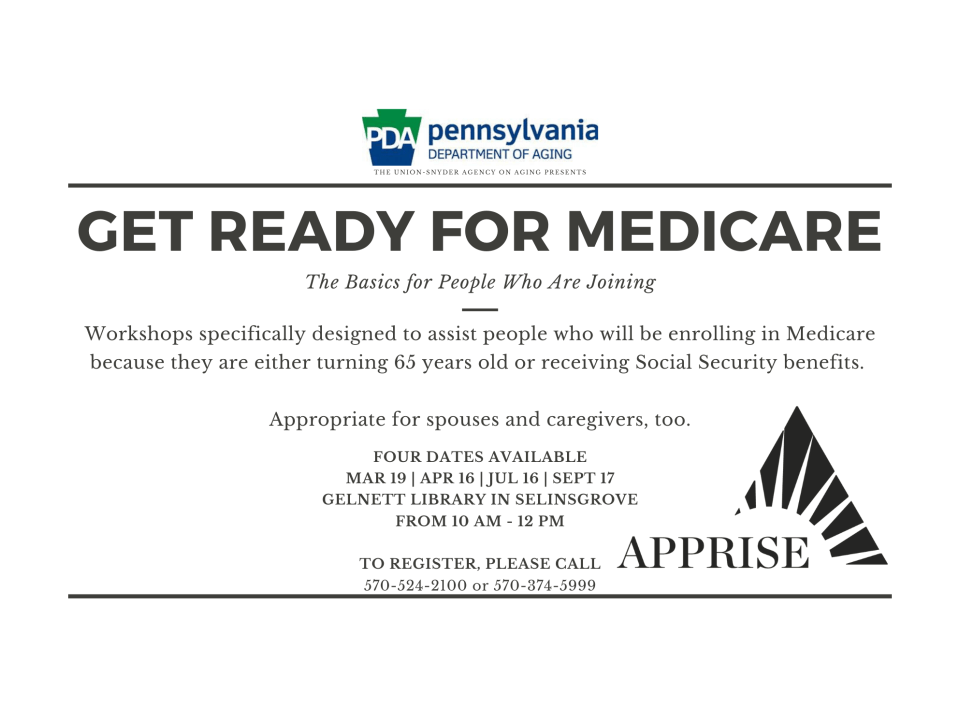 People who are new to Medicare are invited to attend a "Get Ready for Medicare: The Basics for People Who Are Joining," a free community workshop on the above dates and times. The events are co-sponsored by APPRISE, a program of the Pennsylvania Department of Aging, and the Rudy Gelnett Memorial Library.
These workshops are specifically designed to assist people who will be enrolling in Medicare, either because they will turn 65 years old or because they receive Social Security disability benefits. These workshops are also appropriate for spouses and caregivers.
Roughly 100,000 Pennsylvanians enroll in Medicare each year. Many struggle to make the right decisions about their coverage because they do not have clear information. The Medicare enrollment process is complex and there are key decisions that must be made according to strict deadlines. There are also programs available that can help Medicare enrollees save money. Beneficiaries are encouraged to take advantage of this opportunity to get information from highly trained people who will offer unbiased advice.
To register, please call 570.524.2100 or 570.374.5558. The Union-Snyder Agency on Aging is a local affiliate of APPRISE, a program of the Pennsylvania Department of Aging, the designated State Health Insurance Program (SHIP) in Pennsylvania. SHIPs receive grant funding from the Centers for Medicare and Medicaid Services to provide direct, local assistance to Medicare beneficiaries through one-on-one counseling sessions (both in-person and over the phone), presentations, and public education programs.
APPRISE is a free health insurance counseling program designed to help Pennsylvanians with Medicare. For more information, visit the Union-Snyder Agency on Aging website.